The facility is expected to generate 1500 direct and 10,000 indirect employment opportunities
Tower Semiconductor, is the principal technology partner, with the project initially funded by Next Orbit Ventures Fund (NOVF)
The Consortium is one of the three applicants for the Central Government's $10 billion incentive package for semiconductor manufacturing
Bengaluru, 1st May 2022: The ISMC announced an investment of Rs. 22,900 crores ($3 billion) in a 65nm Analog Semiconductor Fabrication plant in Karnataka.
Hon'ble Chief Minister of Karnataka Sri Basavaraj Bommai met with the ISMC team comprising of Mr. Ajay Jalan, ISMC Director, Mr. Sanjiv Taneja, and Mr. Umesh Chhabra from ISMC. Mr. Erez Imberman, Vice President, Tower Semiconductor (Business Development & Special Projects) also attended the meeting.
Mr. Ajay Jalan, Director, ISMC, signed the MoU with Dr. E.V. Ramana Reddy, Additional Chief Secretary to Government of Karnataka, Department of Electronics Information Technology Biotechnology and Science & Technology at Krishna today.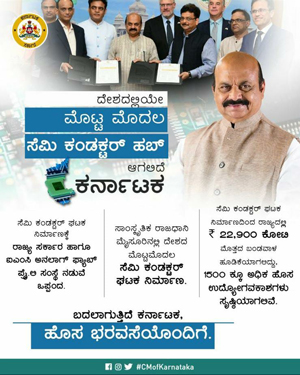 Dr. Ashwath Narayan, Hon'ble, Minister for Minister of Higher Education, IT and BT, Science and Technology and Skill Development, Entrepreneurship and Livelihood, Ms. Gunjan Krishna, Commissioner for Industrial Development, Director, Department of Industries and Commerce, Ms. Meena Nagaraj, Director, Electronics, Information Technology, and Biotechnology, Government of Karnataka, Mr. Naor Gilon, Ambassador Israel India, Ms. Tammy Ben-Haim, Consul General and Ms. Limor Bletter, Deputy Chief of Mission of India were present.
The ISMC has requested 150 acres of land in Mysuru's Kochanahalli Industrial area. This will be one of India's first and largest semiconductor fabrication units under the Central Government's Indian Semiconductor Mission upon project approval by the Government of India. The project is expected to generate more than 1500 direct and 10,000 indirect employment opportunities and ancillary semiconductor ecosystem industry development in the area with significant multiplier effects.
Speaking on the occasion, Sri Basavaraj Bommai said "This MoU is a significant agreement amid the competition among various states to attract semiconductor fabs. Karnataka is gaining attention as the most favourable destination for investment with its exceptional customised incentive packages".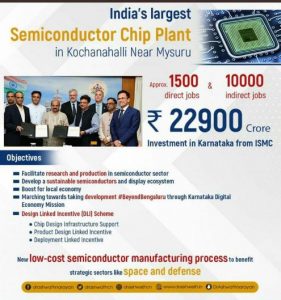 Dr. Ashwath Narayan expressed his support saying "Semiconductor production in Karnataka will provide further impetus to the economy of the state and we are happy to support global firms to set up manufacturing facilities here"
Signing the MoU, Dr. E.V. Ramana Reddy, said "The uptick in Indian investment in semiconductors coincides with the global demand for semiconductors amid a shortage expected to run through 2025. We have suggested an Electronics and Systems Design cluster in Mysuru as the investment destination for ISMC".
Ms. Gunjan Krishna, said, "The present geopolitical circumstances necessitate that India develops the ecosystem for the semiconductor manufacturing in the country and Karnataka is well poised to take advantage of that because of its robust ecosystem in the electronic chip design industry. The manufacturing facilities will only add to the growth of the sector."